SD-DZ Plasma Sterilizer with Simens PLC
Product Description:

Hydrogen Peroxide Plasma Sterilization  are far above the old methods of sterilization like autoclaves, heat sterilizations, which could take hours to processing  and have limitation to  heat sensitive equipments. Our Plasma Medical Sterilizers  can sterilize a wide range of instruments including metal ,plastic ,cable and lens ,which are sterilized by low temperature .
Main Features:
| | |
| --- | --- |
| Can be easily installed and relocate | User friendly chamber design |
| No special facilities required (Water / vent) | Easy to clean and maintain |
| Rapid cycle time | Corrosion & Acid proof housing |
| Optimize utilization of instrument inventory | Easy to use sterilization agent cassette |
| Processes a wide range of surgical instrument | High vacuum pump for deep penetration |
| Compatible with moisture / heat-sensitive materials | Thermal printer for complete cycle information |
| Environment friendly design | Spare parts available in stock |
| No aeration after sterilization | Caster wheels for easy relocation |
Specifications:
Models

SD-DZ 220

SD-DZ 100

SD-DZ 130

Chamber Volume

190  Liters

100 Liters

130 Liters

Construction

5052 Aluminium

Processing Temperature

Below 55°C

Control System

Siemens PLC

Display

7" Touch Screen

Printer

Thermal Printer

Touch Screen Functions

Phase Temperature Date and time Cycle Selected Alert message

Data Storage

Memory Card

Total Cycle Time

Short cycle  30 minutes ,  long cycle 50 minutes

Noise

< 60 db

Door

One

Alarm

Door Lock Power Failure Low / High Temp. range Vacuum & Pressure

Peripheral Devices

Biological Incubator

Power Consumption

2.5 KVA

Power Supply

220 V, Single Phase 50  Hz

Mobility

4 Wheels

Standards

EN ISO 9001:2016,  EN ISO 13485:2016 EN ISO 14001 , EN 61010-2-040, EN 61010-2-042
SADA MEDICAL Quality Standards:
ISO 9001:2015 Quality Management Systems
EN ISO 13485:2016 Quality Management System - Medical Devices
CERTIFICATES:
SADA MEDICAL Workshop:
Video of SADA MEDICAL Autoclaves:
Catalog, Brothures and User Manual Please refer below Link:

https://www.sadamedical.com/pages/catalog-download
Sada Medical is a professional supplier of steam autoclaves, low temperature plasma autoclaves, ethylene oxide sterilizers, dry ovens, consumables, we have exported to all over the world with affordable prices.

If you're interested in our products, please feel free to contact us by Below Contact Form, looking foward to hearing from you soon.
View full details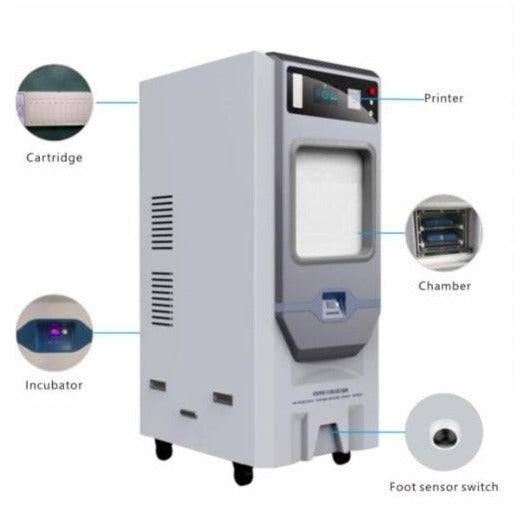 [storeify-formbuilder-3217]